Landing gear component, attached with fluoroelastomer adhesive, plays a key role during flights of the Atlantis.
Because of its exceptional heat resistance, good thermal stability and low outgassing properties, Viton fluoroelastomer has been called on for a variety of assignments aboard the National Aeronautics and Space Administration's (NASA's) fleet of reusable space shuttles. Since the shuttle program began flying in 1981, solid rubber components made from the high-performance elastomer have been used in sealing applications ranging from the shuttle's solid-fuel booster rockets to its triple-pane cabin windows.
This case history spotlights an equally critical application for a product made of liquid Viton – a premium-grade adhesive that is used to bond a key component of the shuttle's front landing gear.
Upstop Bumper Came Unglued
Our story begins in October 1996, when the Shuttle Atlantis was being readied for its first docking mission with the Mir space station. The Shuttle Atlantis had just returned from its 17th flight, a 10-day mission, and crews at the orbiter processing facility at Kennedy Space Center were busily inspecting and refurbishing the vehicle for its next scheduled flight in early 1997.
Simplified diagram of the shuttle's nose landing gear showing the upstop bumper pad attached to aluminum frame with adhesive of Viton™. The elastomer-to-metal bond is under compression throughout the mission until the shuttle's wheels are lowered for landing (dotted lines).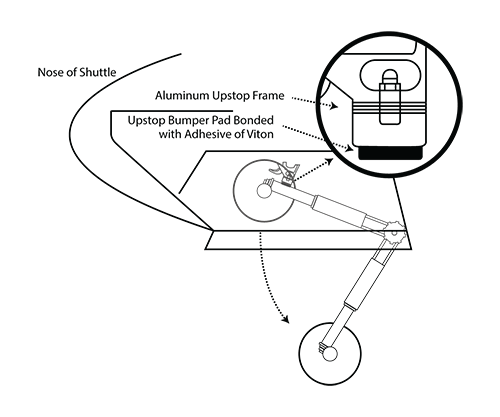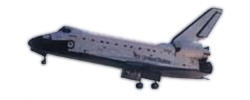 Wheels are lowered as the Space Shuttle Atlantis touches down at Kennedy Space Center after a successful rendezvous with the space station Mir in January 1997. The single landing gear at the nose of the craft spent the entire 10-day mission compressed against an upstop bumper assembly bonded with liquid adhesive of Viton® (see drawing).
While the shuttle's retractable nose landing gear was being serviced, a small part on the wheel assembly was found to be missing. The part was a 2-in. by 2-in. elastomer pad called the upstop bumper: the adhesive that held it in place had failed either during the flight or while crews were servicing the landing gear. "The bumper simply detached from the structure," said Marcy Solomon, materials engineer for the Boeing Company, NASA's design and engineering integration contractor for the shuttle program.
"We were in a quick turnaround mode," continued Solomon, "and we needed to reattach the bumper to the aluminum structure in a hurry. We needed a reliable adhesive and we needed it right away."
No Ordinary Adhesive
But rebonding the upstop bumper on the Atlantis required a very special type of adhesive, according to Solomon. "The adhesive for attaching this important part has to meet a very tough performance spec," she explained.
The specification used by Boeing was written to ensure reliable performance in space, as well as during take-off and landing of the shuttle. The cured adhesive is required to withstand temperature extremes (from -60°F to +450°F [-51°C to 232°C]) and to provide a shear strength of 750 psi at the coldest end of the scale. Bond strength and durability – as well as a long shelf life – were other key requirements.
As for application characteristics, "we wanted a two-part adhesive that could be brush-applied, have a fast cure cycle and yet give us a pot of life of eight hours," Solomon explained. "That's a tall order, and it was clear that no ordinary adhesive would do; only a liquid fluoroelastomer would be suitable for reattaching the bumper. But where could we get such a specialized product on a rush basis?"
The answer was in product evaluation work that had been done by Boeing more than a year earlier. In mid-1995, Boeing engineers had requested a sample of PLV-2100, a liquid adhesive made from Viton™ fluoroelastomer by Pelseal® Technologies, a Bensalem, PA company. Boeing had tested the high-performance adhesive and had approved it for rubber-to-aluminum bonding applications. Now, faced with the urgent need to rebond the upstop bumper before the next launch, a call went out to Pelseal. "The good news came back that we could get the adhesive right off the shelf…without waiting," said Solomon.
From inventory, Pelseal dispatched via overnight express a small container of the PLV-2100 adhesive. "Thanks to the special delivery, we were able to reattach the bumper on time and support the shuttle processing schedule," said Solomon, who was also impressed with how fast the fluoroeleastomer adhesive cured. "It took less than one shift – eight hours – to complete the bonding operation, and that's even faster than our spec call for."
Advantages of Viton for Critical Applications
A rapid cure cycle is just one of the advantages of PLV-2100, according to William Ross, Jr., President of Pelseal. "This adhesive is probably best known among industrial users for its ability to withstand high temperatures and corrosive fluids," he said. "It forms high-strength bonds that are tough, abrasion-resistant and compatible with metal, wood, fabric and especially rubber parts like the upstop bumper. Viton is a very popular product where high-performance adhesive bonds are an absolute must."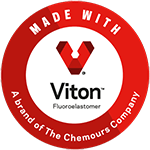 Ross pointed to a long list of successful applications for PLV adhesives, including gasketing industrial ovens, coating chemical equipment, repairing jet engines and splicing rubber belts.
"A variety of circumstances are making liquid Viton the material of choice for many of today's sealing applications," he said. "Stricter environmental regulations, more fuel-efficient engines and the need to reduce maintenance costs are leading industry to adopt premium adhesives that offer the same high level of performance that NASA demands for its shuttle program."
Viton™ and any associated logo is a trademark or copyright of THE CHEMOURS COMPANY FC, LLC used under license by Pelseal® Technologies, LLC