Extreme Performance in Extreme Environments
Sealant Protects Shuttle Experiments from Moisture
Allows more reliable research on AIDS and Cancer

A high-performance sealant, manufactured by Pelseal® Technologies, LLC, Newtown, Pa., is playing a critical role in space shuttle experiments that are expected to provide important information in the fight against AIDS and other diseases.

The sealant, Pelseal 2077, was first used for ground-based experiments during the October 1998 STS95 space shuttle mission, carrying astronaut John Glenn. Since then, onboard experimental equipment has been modified to incorporate Pelseal 2077. The sealant may get its first in-space test during a shuttle mission slated for this October.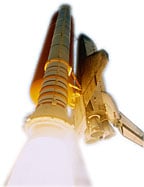 Pelseal 2077 is the second fluoroelastomer product manufactured by Pelseal Technologies to be pressed into service on space shuttles by the National Aeronautics and Space Administration (NASA). In January 1997, NASA began using PLV 2100, a VITON™-based adhesive, as a bonding agent for the up-stop bumper inside the shuttles' nose landing gear well.

The latest Pelseal space product is used to help protect thermoelectric devices from moisture in an advanced-version Commercial Refrigerated Incubator Module-Modified (CRIM-M). The CRIM-M is used to house protein-crystal experiments and maintain them at a constant temperature.

Scientists are studying the crystals, which seem to grow larger and more freely in the weightlessness of space, to unlock further secrets of the proteins' molecular structure, helping the body resist diseases like AIDS, cancer, diabetes, sickle cell anemia and rheumatoid arthritis.

During Glenn's mission, the concurrent ground-based experiments compared the growth of crystals on earth with their growth in five earlier-version CRIMs on the spacecraft. The CRIM-M incubator, with the Pelseal 2077 sealant, also served as a "backup" for Glenn's shuttle if the earlier model developed problems during countdown. After the mission, the earlier CRIMs were modified with Pelseal 2077 and other improvements for use on future shuttle missions.

Protein crystals grow in specially designed hardware within a refrigerated incubator module. A high-performance sealant protects the equipment from harmful moisture buildup.
The Protein Crystal Growth Program is under the direction of the University of Alabama's Center for Macromolecular Crystallography in Birmingham, Ala., which is conducting the program for NASA's Marshall Space Flight Center in Huntsville, Ala.

According to Steven Hicks, engineering lab manager with the Center for Macromolecular Crystallography, protein crystals are very temperature-sensitive. To facilitate their growth, thermoelectric components in the CRIM can maintain a constant temperature in the range of 22°C to 4°C ±0.5°C.

On previous flights, Hicks explained that humidity in the shuttle condensed on the thermoelectric devices and degraded performance. To keep such moisture from forming, he said, a coating of Pelseal 2077 sealant is spread as a moisture barrier over the polyurethane foam, which covers a metal box containing the thermoelectric components. "The Pelseal coating functions very effectively and will allow us to conduct more reliable experiments," Hicks pointed out.

Pelseal 2077 is a one-part sealant/caulk, which Pelseal Technologies formulates with VITON fluoroelastomer (FKM). The product withstands temperatures of 40°F to +400°F; is resistant to some 750 chemicals and corrosive liquids; and is impervious to ozone, sunlight and ultraviolet radiation. Because of these properties, Pelseal 2077 has been widely used in industrial applications where resistance to a harsh environment is crucial.

Viton™ and any associated logo is a trademark or copyright of THE CHEMOURS COMPANY FC, LLC used under license by Pelseal® Technologies, LLC